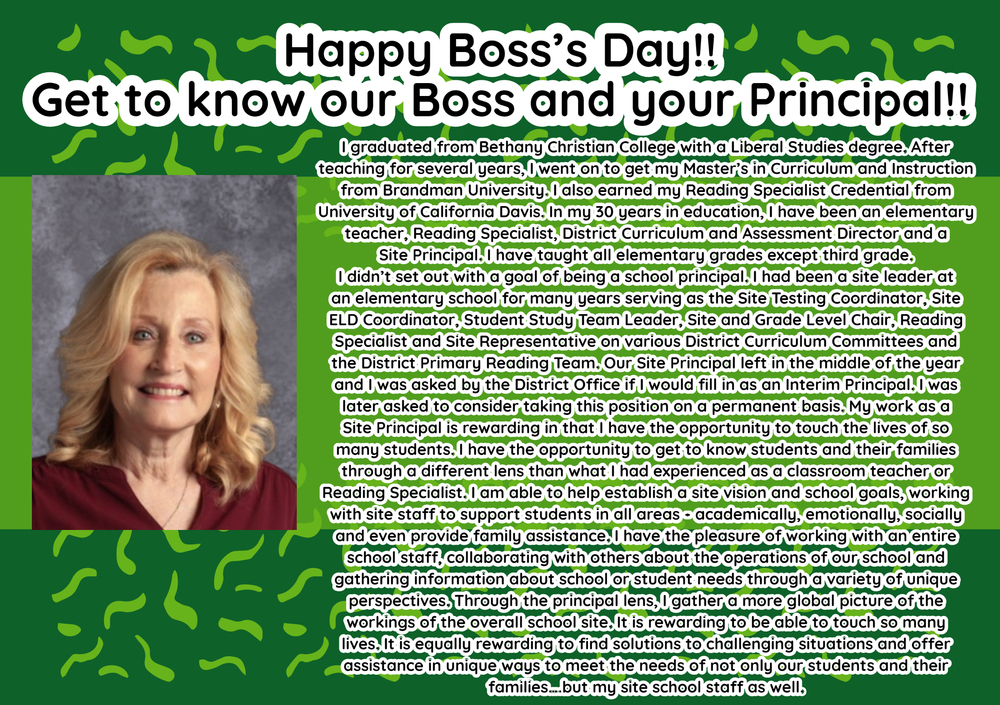 Happy Boss's Day Mrs. Ferguson!!
Ashley Stevens
Friday, October 16, 2020
Happy Boss's Day Mrs. Ferguson!! Thank you for all you do for our Students, Staff and Community! We wanted to share our great boss with you today and let you know how she got to where she is today! Here is her story.....
I graduated from Bethany Christian College with a Liberal Studies degree. After teaching for several years, I went on to get my Master's in Curriculum and Instruction from Brandman University. I also earned my Reading Specialist Credential from University of California Davis. In my 30 years in education, I have been an elementary teacher, Reading Specialist, District Curriculum and Assessment Director and a Site Principal. I have taught all elementary grades except third grade.
I didn't set out with a goal of being a school principal. I had been a site leader at an elementary school for many years serving as the Site Testing Coordinator, Site ELD Coordinator, Student Study Team Leader, Site and Grade Level Chair, Reading Specialist and Site Representative on various District Curriculum Committees and the District Primary Reading Team. Our Site Principal left in the middle of the year and I was asked by the District Office if I would fill in as an Interim Principal. I was later asked to consider taking this position on a permanent basis. My work as a Site Principal is rewarding in that I have the opportunity to touch the lives of so many students. I have the opportunity to get to know students and their families through a different lens than what I had experienced as a classroom teacher or Reading Specialist. I am able to help establish a site vision and school goals, working with site staff to support students in all areas - academically, emotionally, socially and even provide family assistance. I have the pleasure of working with an entire school staff, collaborating with others about the operations of our school and gathering information about school or student needs through a variety of unique perspectives. Through the principal lens, I gather a more global picture of the workings of the overall school site. It is rewarding to be able to touch so many lives. It is equally rewarding to find solutions to challenging situations and offer assistance in unique ways to meet the needs of not only our students and their families….but my site school staff as well.