Earth Day 2021: Earth Day is celebrated on April 22 every year. The day marks the anniversary of the birth of the modern environmental movement in 1970. Several agencies and governments organise special events to spread awareness among masses about climate change and global warming. We would like to thank Frantz Nursery for donating a shade tree for us to plant to help celebrate Earth Day!

Got the spirit we want to hear it!! It's time to come sign up for Cheer Tryouts in the Waterford High School office. Tryouts will be from May 19th-20th and the Evaluation will be on May 21st. Check out the flyer for more information!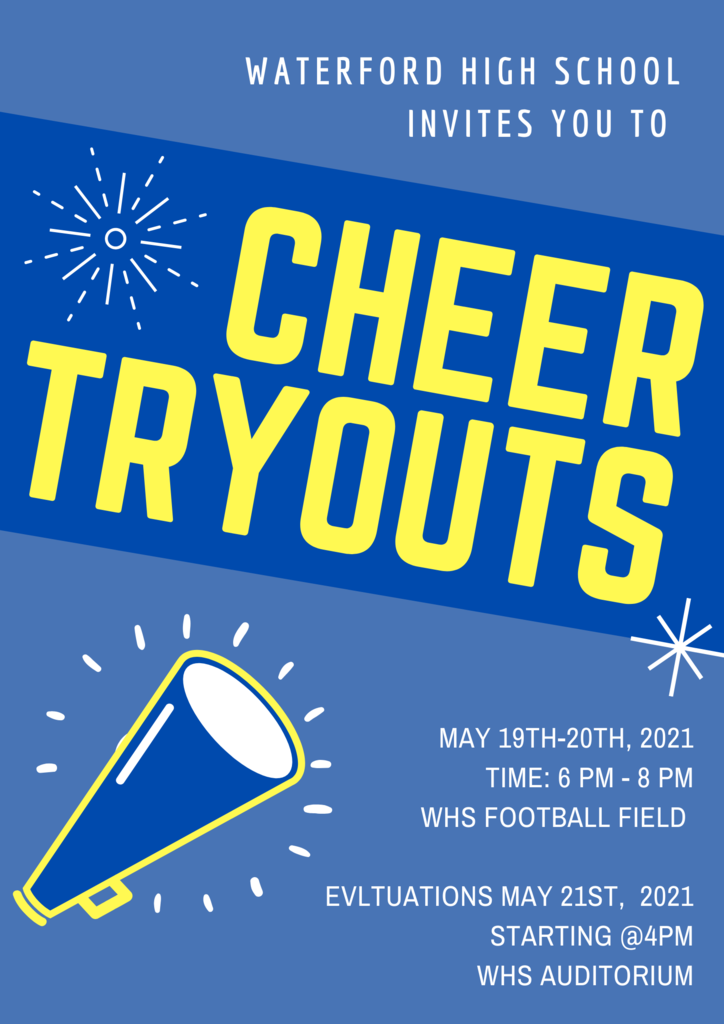 Congratulations Waterford FF Ag mechanics Team! They placed 3rd overall in the Reedley College Ag Mechanics Contest! Christian Araiza placed 2nd High Individual, High Individual Electrical, and 2nd High Individual Welding! Way to go Wildcats!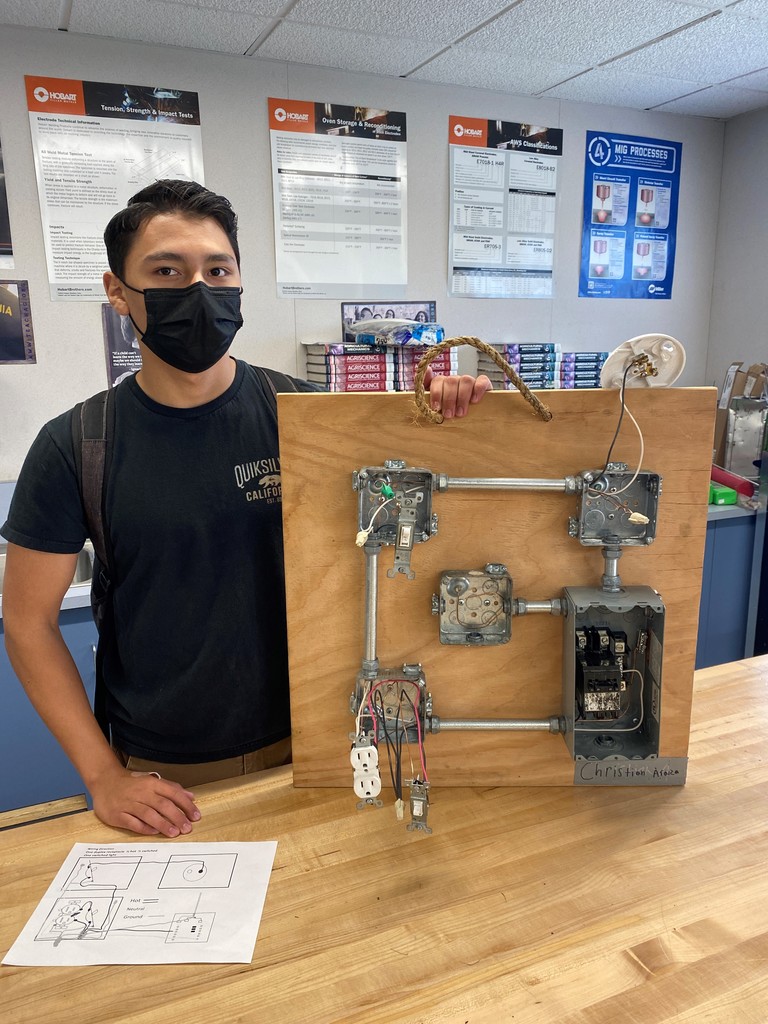 ¡Deja el evento de drogas! Entregue sus medicamentos no utilizados o vencidos para su eliminación segura y gratuita. ¡No se hicieron preguntas! FECHA: 24 de abril de 2021 HORA: 10 am - 2 pm UBICACIÓN: Tribunal Superior del Condado de Stanislaus 800 11th St., Modesto Drive up drop off disponible en el lado de la calle I ¡Ayude a mantener a nuestros niños y hogares seguros y nuestra agua limpia! Para obtener más información, llame a Servicios de recuperación y salud conductual al 209-525-5316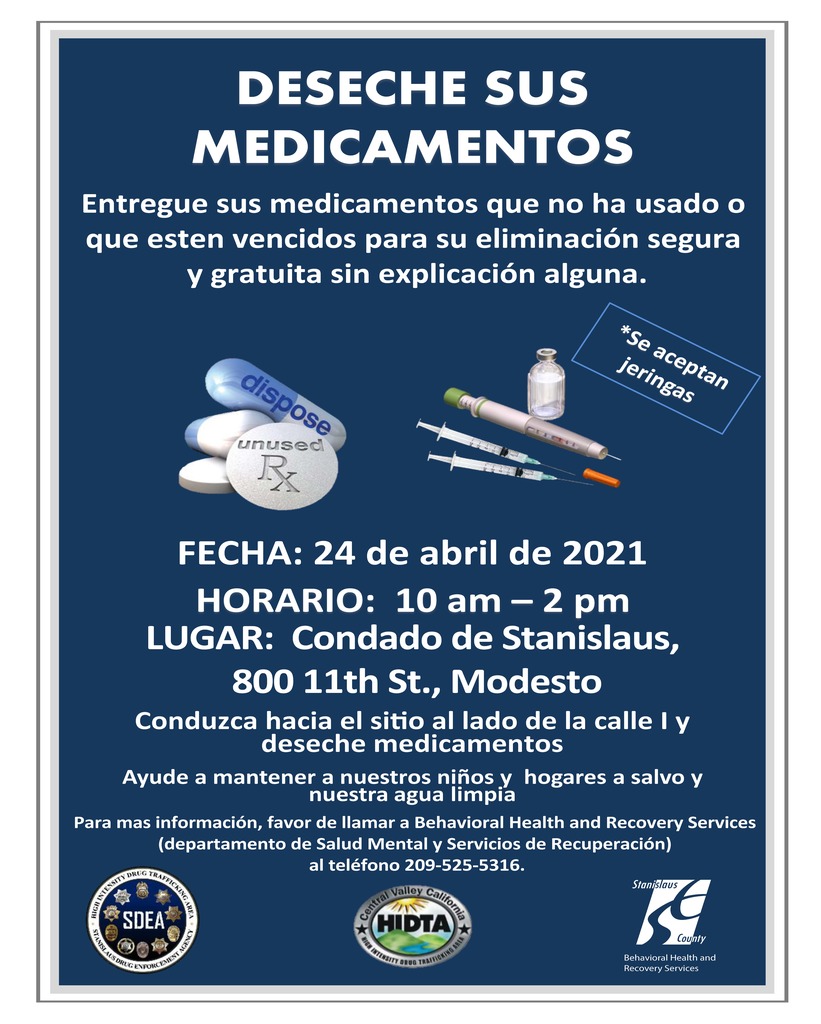 Drop the drugs event! Turn in your unused or expired medications for safe & free disposal. No questions asked! DATE: April 24, 2021 TIME: 10 am – 2 pm LOCATION: Stanislaus County Superior Court House 800 11th St., Modesto Drive up drop off available on I Street side Help keep our children & homes safe and our water clean! For more information, please call Behavioral Health & Recovery Services at 209-525-5316

Reminder... all cohorts should be on campus starting today! Cant wait to see everyone!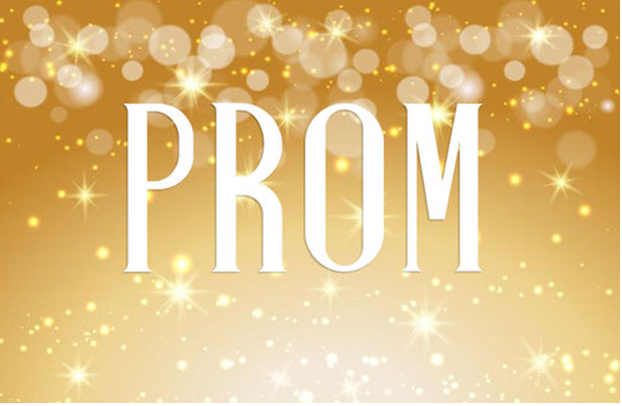 Volleyball at WHS is working on making some money for new uniforms and much needed equipment. We have designed a T-shirt and am selling them to all. Attached is an order form which can be filled out, attach payment, and returned to either the high school office, any volleyball player, or either coach (Jolene Thompson or Kelsey Cervantes). We also hope soon that you will all be able to come to our games and watch us play. We are currently 3-1 in our league play this season and look forward to your support! Have a great day and a very Hoppy Easter!!! Jolene Thompson Waterford High Varsity Volleyball Coach Orders need to turned in and payment attached by April 14!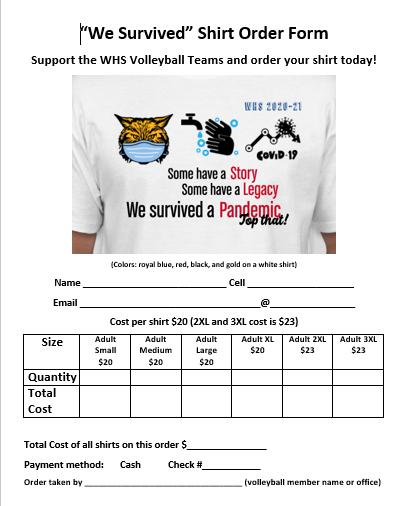 STARTING THURSDAY WE WILL BE COMBINING COHORTS *Wednesday will still be a Distance Learning Day. The bell schedule will remain the same for the remainder of the school year

Happy Easter!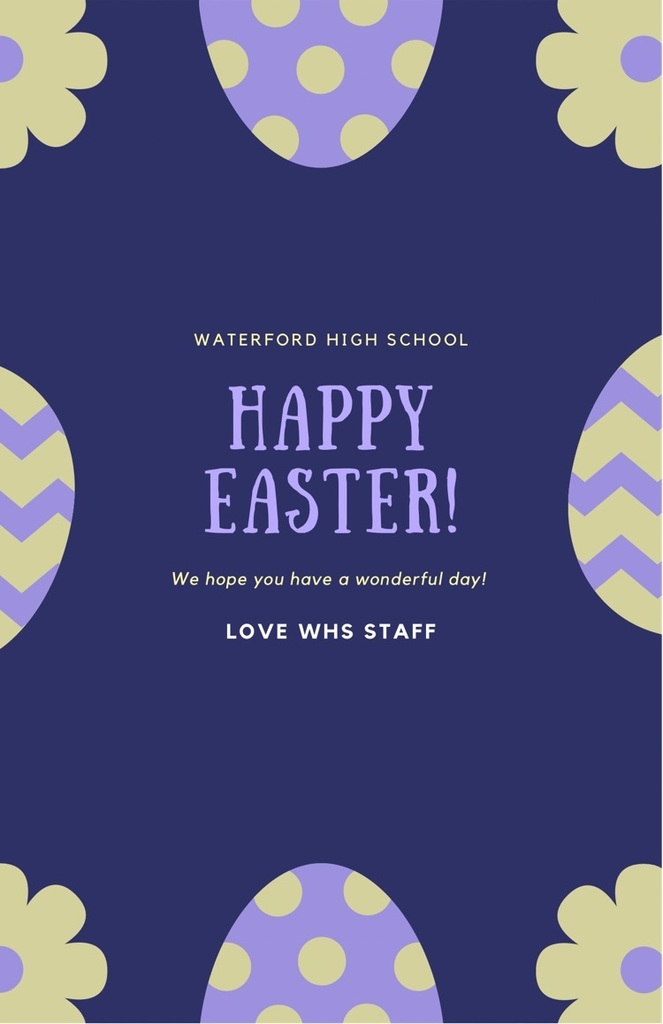 We can't wait to see everyone at Freshman Orientation!!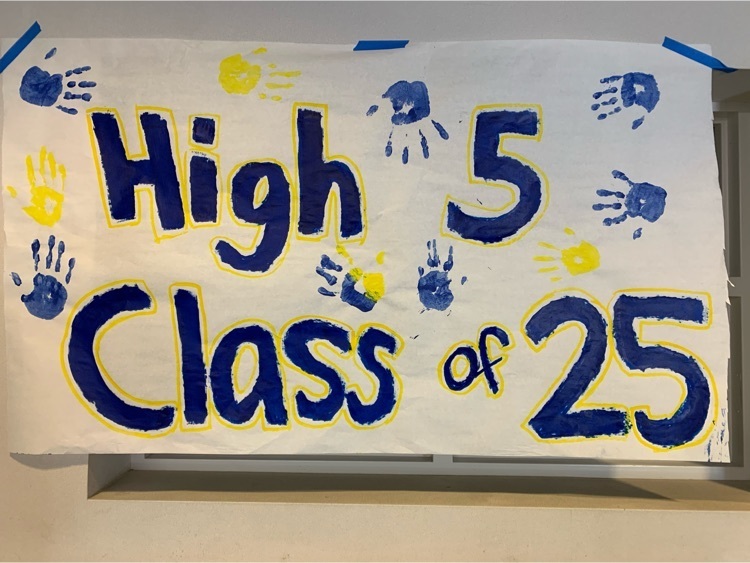 WHS would like to Thank the Community, Law Enforcement and everyone who showed up to Cheer our kids on as the WHS Athletes ran from Taco Bell to WHS. It was such a great event for our kids!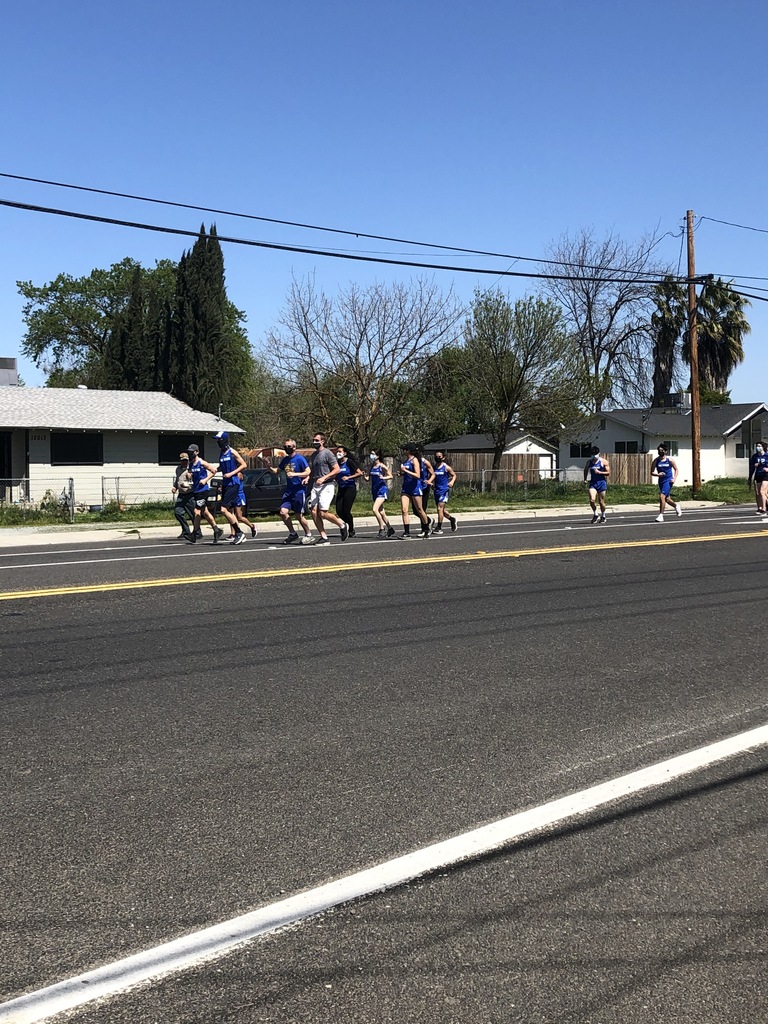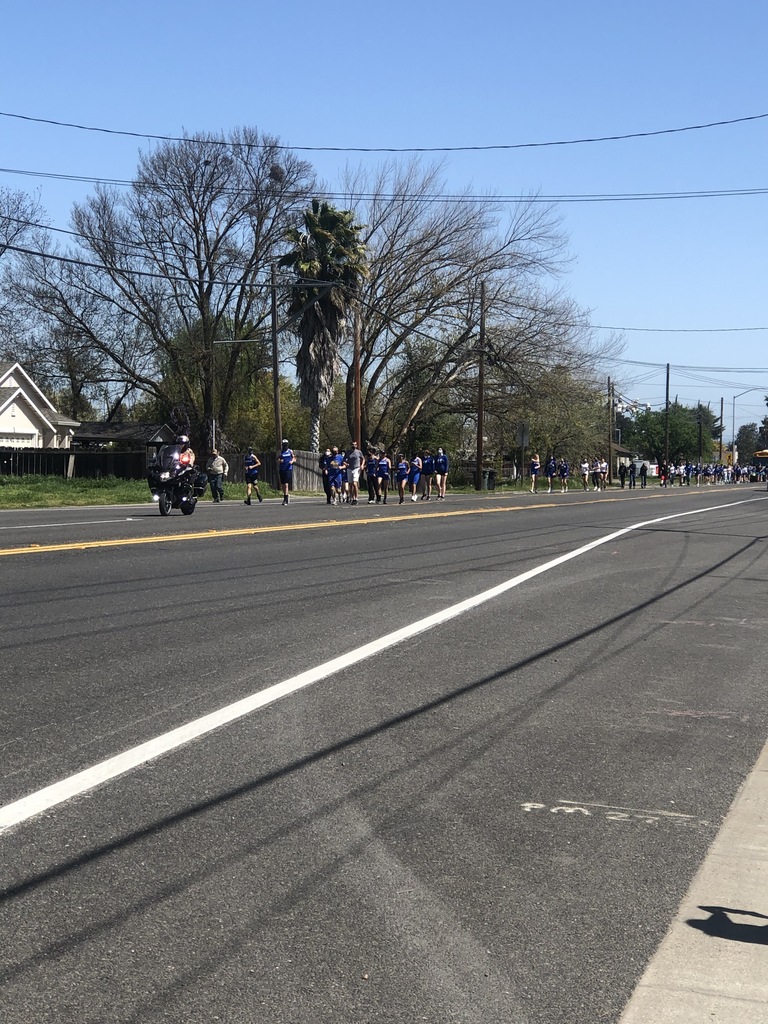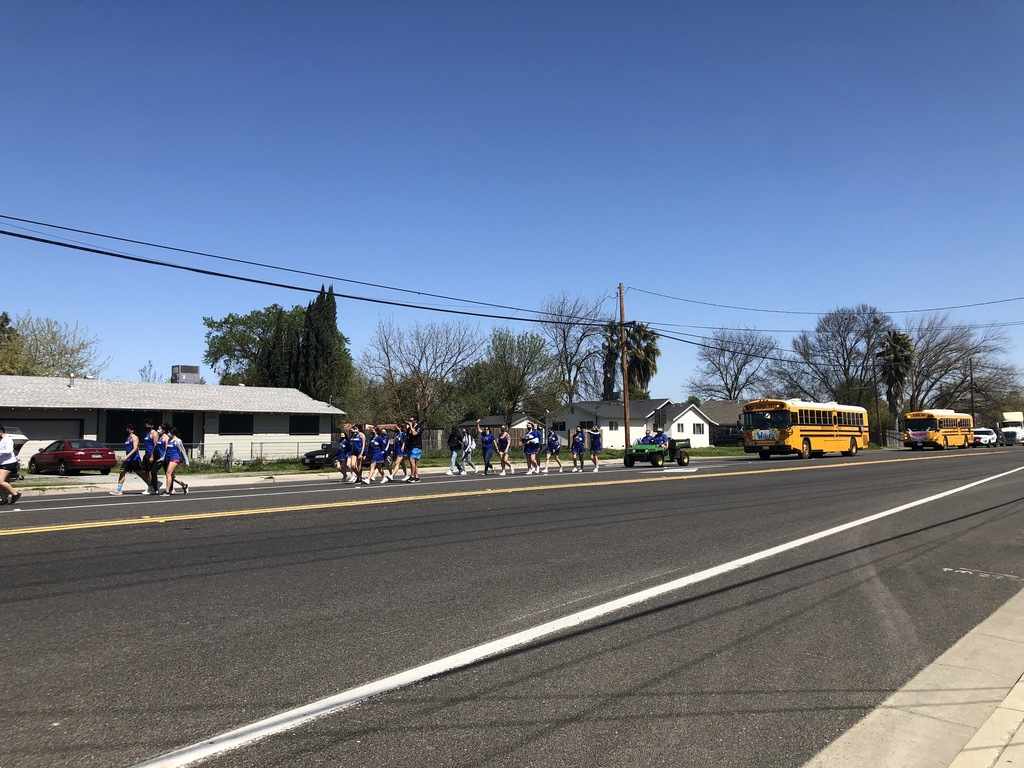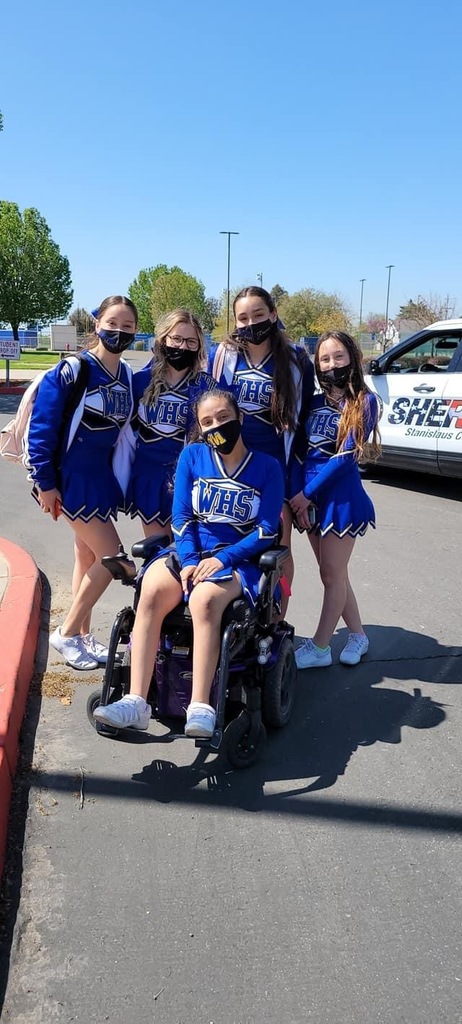 Nutritional Services is proud to announce our partnership with Central Valley Opportunity Center and Second Harvest. This event will take place in the auditorium parking lot located at WHS on April 1st. The event time is 11am to 1pm. Food boxes will be provided to help families (while supplies last). CVOC will be there to help families with rental assistance, utility assistance and food vouchers. Please distribute these flyers to your staff, students or social media platforms. We want our community to receive as much help as we can possibly provide through these partnerships. Thank you for sharing our common goal of bettering our community!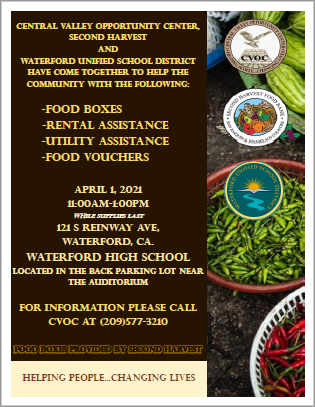 Last golf tournament of the year at rancho del rey, 18 hole. Shiloh tillery : good drives, beat both opponents. Micah Pritchett: good puts and nice chips, beat both opponents. Our senior Tyler Silva , been on golf team for three years and today was his last tournament as a Waterford high golfer.  Solid drives with straight puts, beat one opponent. Ryan Espinoza: good puts with some good iron use , beat both opponents. Ethan Elizondo: some good puts with good chips to go along with them. Beat one opponent.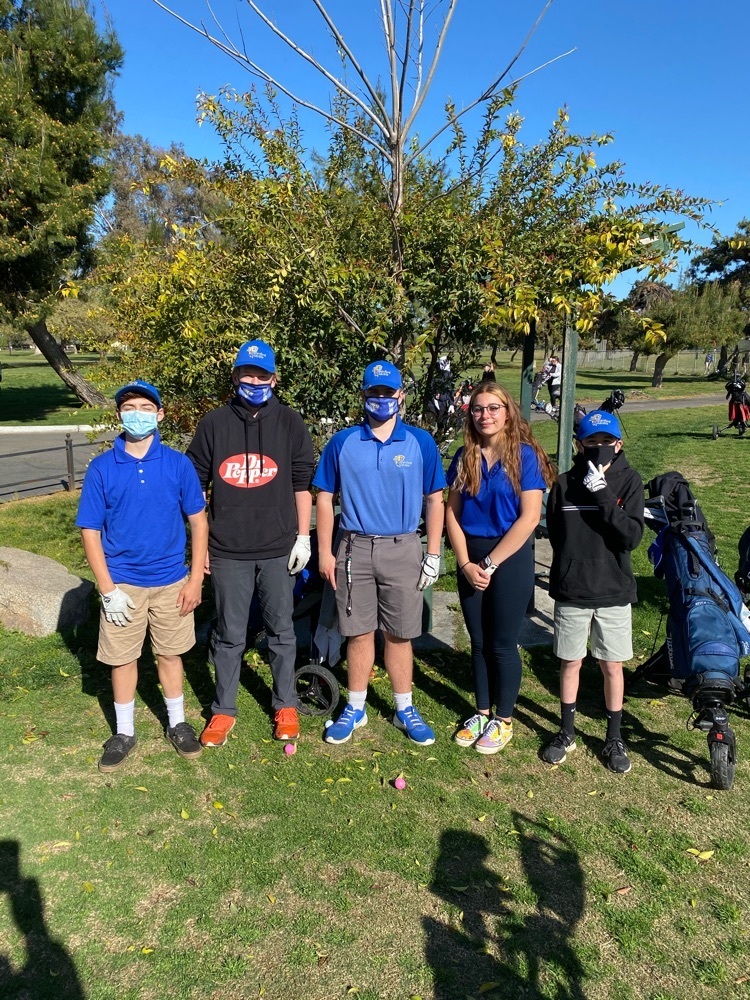 Calling all 8th graders Calling all 8th graders! Believe it or not it is that time of the year already! We will be having Freshman Orientation on WEDNESDAY, MARCH 31st GROUP A - 1:30 PM GROUP B - 2:30 PM *Tours*1st Day Information*Hotdogs Can't wait to see you!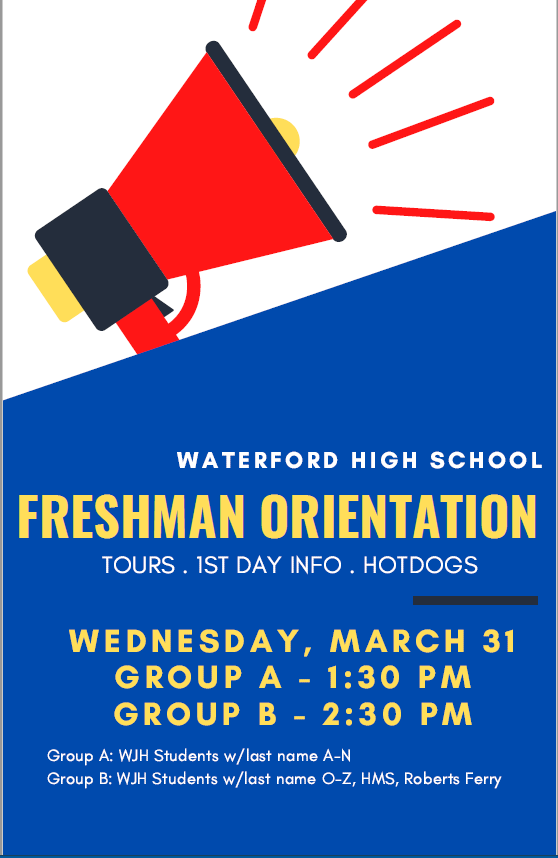 We are thrilled to have Cohort B students on campus for In Person Instruction!! We hope everyone has a great 1st day!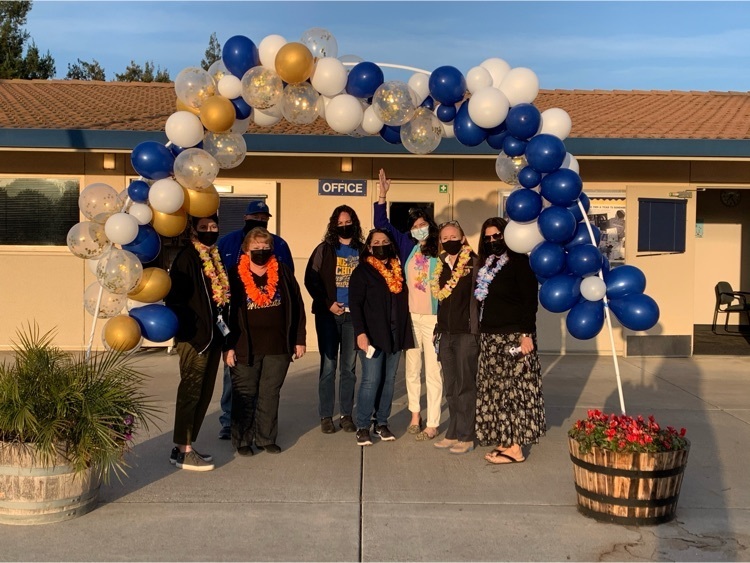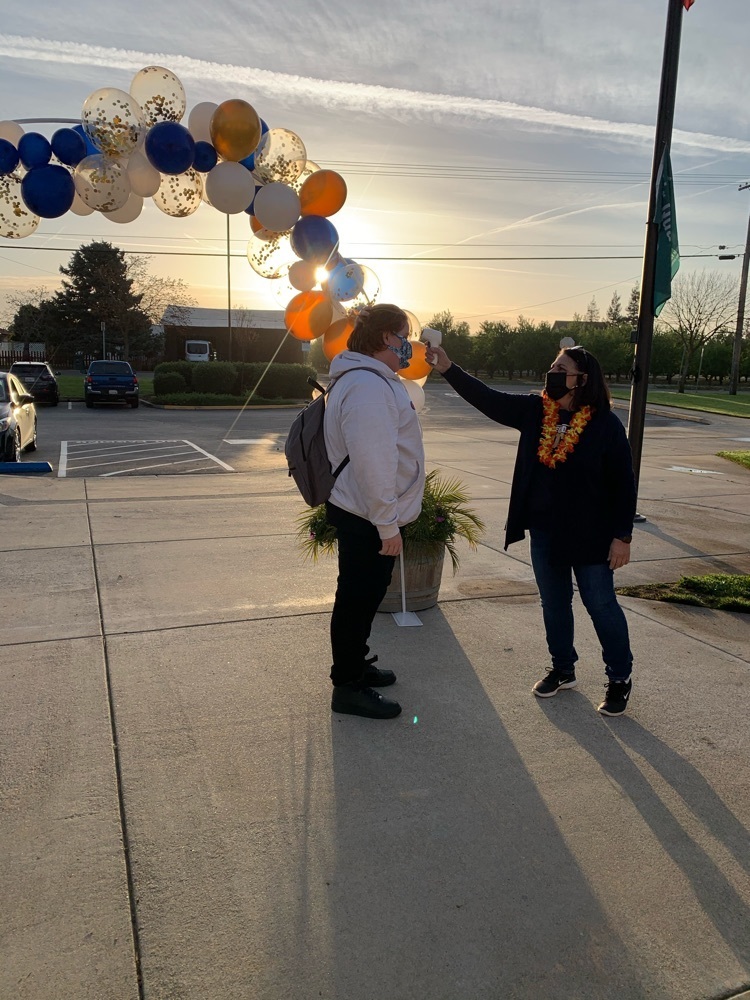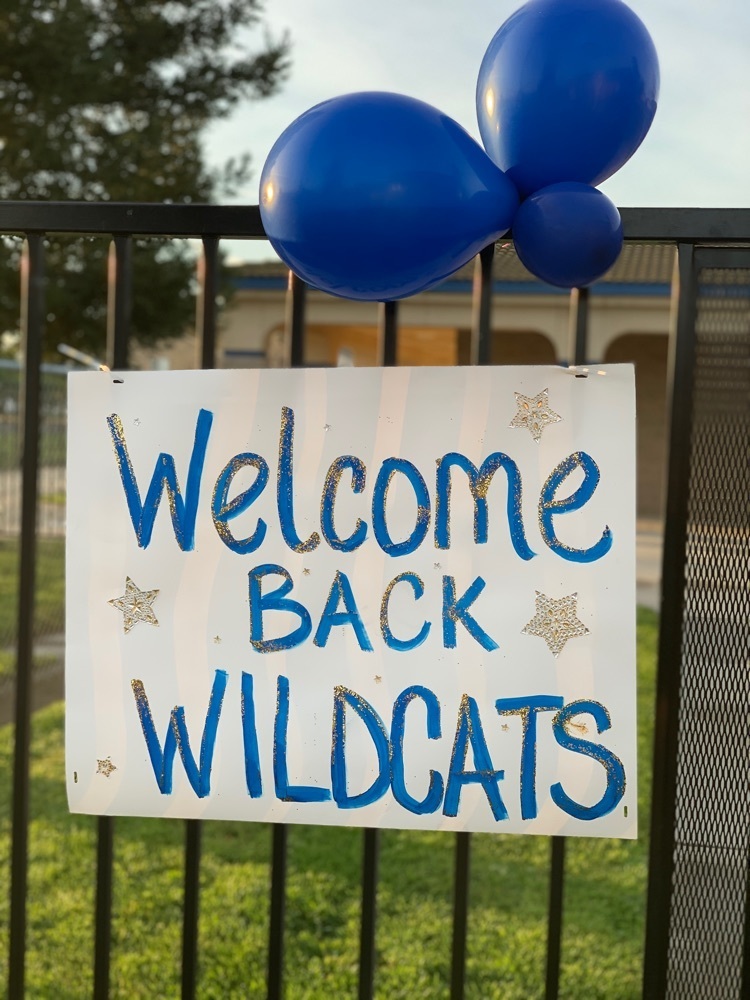 Join us in Cheering on our WHS Sports Run! On Monday, March 29, 2021 at 1:30 p.m. line up along 132 between Taco Bell and WHS to show your support for our 2020-2021 Wildcat Athletes! Cheer them on as they celebrate their clearance to return to sports!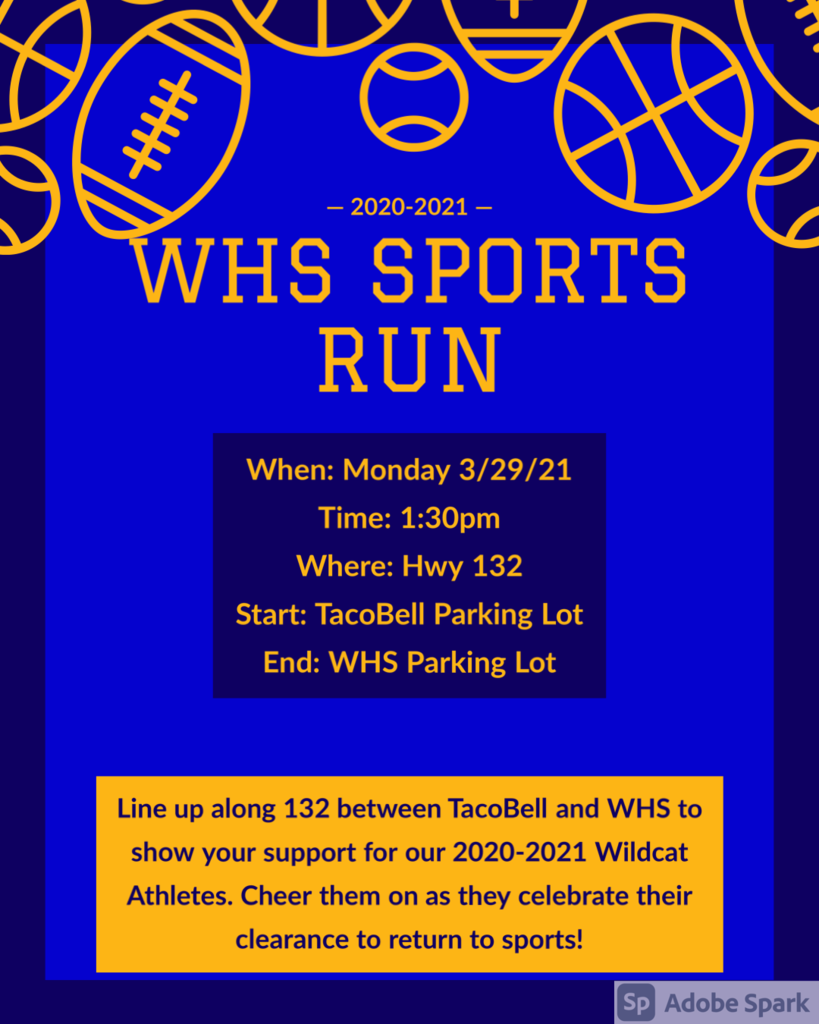 Hello Wildcats, Great news! We reopen Thursday, March 25th at 8 a.m. sharp with Cohort B. Please come early as we will be checking temperatures at the gate. Everyone will be required to wear a mask, except for when eating breakfast or lunch. Monday, we will host a "Welcome Back Live" event from 2:00pm to 4:00pm. (flyer attached). If any students wants to come pick up a schedule, take a tour, find your classrooms, mingle with staff, or enjoy a root beer float, the campus will be open. Reminder, all students were assigned to either Cohort A or Cohort B. Cohort A is Monday/Tuesday and will begin school on Monday, March 29th. Cohort B is Thursday/Friday and will begin school on Thursday, March 25th. All cohorts letters were mailed to your homes. If you're remaining on Distance Learning, please follow the new bell schedule. Call our office at 209-874-9060 if you have any questions. We can't wait to see you again!!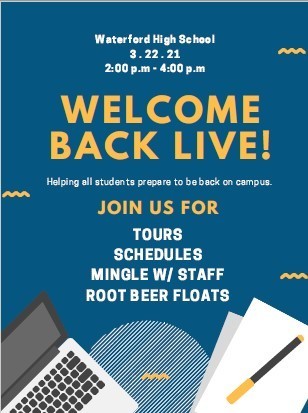 Yesterdays Golf tournament at rancho del rey 18 hole stats. Shiloh tillery : got two pars, had nice iron work and good puts, + long and straight hits. Micah Pritchett: good chipping , and good long drives and two pars. Tyler Silva : long drives and good chips and one par. Ryan Espinoza: good chips, and good long straight drives. Ethan Elizondo: good chips, good use of woods today plus a par. I feel they did very well on the golf course today considering it was so long and the first time they played that course.
Watch our first softball game of the season! We will live streaming the game from Mariposa on the Waterford Wildcats Sport Network Facebook page. Thursday 3/18 @ 4pm.