Parent/Guardian Participation
We have a great appreciation for the trust you have placed in our educational system. It is our mission to foster a learning environment that instills self-directed and collaborative skills in our students, to prepare them for success in college, career, and community.
At the heart of our mission is a deep value for the relationships we have with parents and students. We believe that in order to truly educate our students, we need to work together as a community to ensure their success. Your support and involvement in your child's education is not just welcome, it's essential. There are many ways to be involved in our schools and we encourage your to volunteer in any way that you can. First, we have several decision making councils, including the School Site Council and the English Learner Advisory Committee, where you can stay informed about and influence school decisions. There are also a variety of events and programs you can volunteer for, including becoming a reading buddy, helping with back to school night or other events, being a field trip chaperone, and more. If you do not want to volunteer regularly, you are still welcome to visit your child's elementary classroom or by calling the front office to make arrangements ahead of time and checking in at the front desk when you arrive.
The purpose of a school site council for parents is to provide an opportunity for parents to work collaboratively with school staff and administration in order to improve student achievement and strengthen the overall school community. The council serves as a forum for parents to discuss issues related to academic programs, budgeting priorities, and school policies, and to provide input and feedback on school improvement plans. Ultimately, the goal of a school site council is to ensure that the needs of both students and families are being met, and to create a more transparent and inclusive educational environment for all stakeholders.
Ask you school office when your school site council meetings are being held.
Local Control and Accountability Plan Input
The purpose of a district's LCAP (Local Control and Accountability Plan) for parents is to provide them with a clear understanding of the district's goals, priorities, and plans to improve student outcomes. The LCAP outlines how available funds will be allocated to support academic success, student engagement, and overall well-being. By providing transparency and accountability, parents can gain insight into the decision-making process behind how schools and districts are using their resources to support student growth. The LCAP also provides an opportunity for parents to provide feedback and get involved in the planning process to promote collaboration between educators and families in supporting student success.
We invite you to learn more about our district LCAP and provide feedback through the LCAP webpage.
Contact Assistant Superintendent Carolyn Viss with any questions or concerns, or if you would like to be involved in future LCAP planning meetings.
English Learners Advisory Council
The English Learner Advisory Council is made up of the parents/guardians of English learners, school staff, and community members. A school English Learner Council for parents serves as a platform for parents of English language learners (ELLs) to come together and share their experiences, challenges, and ideas to improve their child's academic and social success. The council provides a space for parents to voice their concerns, discuss language barriers, cultural differences, and the unique needs of ELL students. Through the council, parents can collaborate with school administrators, teachers and other stakeholders to develop policies, programs, and resources that support their child's learning and linguistic development. Ultimately, the purpose of the council is to empower parents to advocate for their child and promote equity and inclusion for ELL students within their school community.
Responsibilities include:
Advising the principal and staff in the development of a site plan for English learners and submitting the plan to the School Site Council for consideration of inclusion in the School Plan for Student Achievement.

Assisting in the development of the schoolwide needs assessment.

Ways to make parents aware of the importance of regular school attendance.
If you're interested in joining the English Learner Advisory Committee, reach out to your school principal, or Toney Henry, our Special Programs Director.
ELAC/DELAC Location: Moon School Conference Room
Meeting Time: 8:30AM
Meeting Dates, 2023-2024:
September 27th

October 25th

December 13th

February 28th

March 27th

May 1st
Volunteering at school is not only a great way for parents to stay involved in their child's education but it also provides numerous benefits such as building positive relationships with teachers and staff, modeling active citizenship for their child, gaining a better understanding of the educational environment, and contributing to the school community which results in a sense of satisfaction and fulfilment. Additionally, volunteering can also provide networking opportunities, skill development and can increase personal confidence.There are so many ways you can volunteer and support your school and our students. Here are a few ideas:
1. Join a booster club: Parents can get involved in the school by joining a Booster Club. These groups often organize fundraisers and events to support the school, and they also provide a forum for parents to share ideas and concerns.
2. Chaperone school trips*: Many school trips require parent volunteers to accompany students on field trips. This is a great way to get involved, and it also provides an opportunity to spend time with your child and their classmates outside of the classroom.
3. Help out in the classroom*: Teachers often appreciate the help of parent volunteers in the classroom. This can involve assisting with activities, grading papers, or reading with students.
4. Volunteer in the school library: The school library is another area where parent volunteers are often needed. Tasks may include checking books in and out, shelving books, or helping students find materials.
5. Assist with school events: Schools often hold events such as book fairs, school carnivals, or school plays. These events require a lot of planning and coordination, and parent volunteers can play a significant role in making these events successful.
6. Serve on school council: Parents can attend school site council meetings to stay informed about school policies and decisions. Parents can volunteer to serve on these committees and help develop policies and programs that benefit students.
7. Share your expertise: Parents may have skills or expertise that could benefit the school community. For example, if you are a graphic designer, you could offer to design flyers or posters for school events. Or if you are a chef, you may be able to help with cooking classes or meal planning.
8. Become a reading buddy*: Being able to read at grade level is one of the greatest indicators for continued success in school. By volunteering at Moon School as a reading buddy, you can help a child build one of the most important skills for continued learning.
9. Tutor students*: If you have expertise in a particular subject, you could volunteer to tutor students who need extra help. 10. Support school sports teams: Parents can volunteer to help with school sports teams by serving as coaches, referees, or scorekeepers.
*Volunteers who will be assisting on a regular basis in a position that puts them into contact with children will have to fill out the a volunteer applicaiton (below)
Booster Clubs
If you're interested in joining a booster club, mark the applicable box on your volunteer interest form, or call the Waterford High School office.
Volunteering for a school booster club offers numerous benefits such as providing a sense of accomplishment and fulfillment in contributing to the success of the school, building a sense of community and fostering relationships with other parents, gaining valuable skills and experiences that can be used in future endeavors, and being able to positively impact the education and opportunities of students. Additionally, volunteering can provide networking opportunities, help parents to stay informed and involved in their child's education, and ultimately make a difference in the overall success of the school and its students.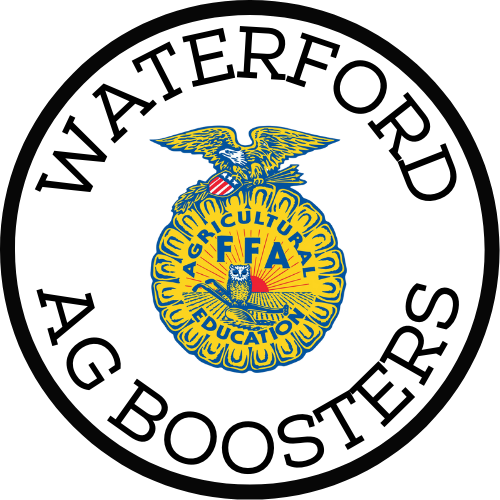 The WHS Ag. Boosters Club supports the WHS FFA chapter by providing resources to send students to events, state and national conventions, equipment for show teams, scholarships, and other fundraising events.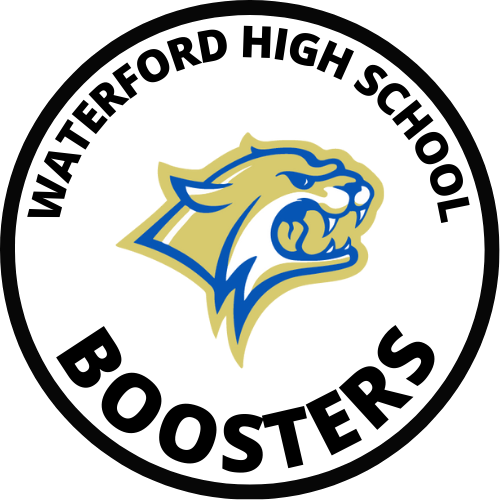 Waterford High School Boosters
The WHS Boosters Club supports the clubs and athletic teams at WHS by assisting them in fundraising. The WHS Boosters Club provides an average of $10,000 in scholarships to graduating seniors.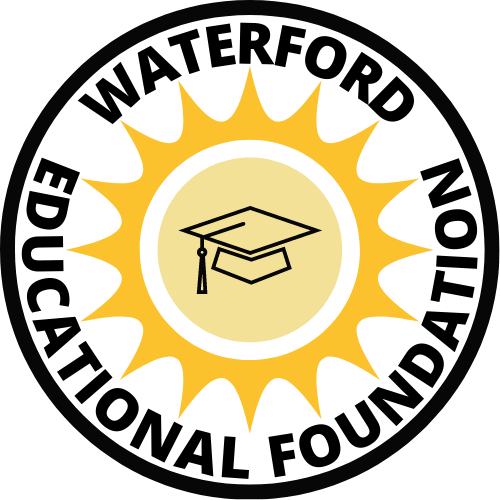 Waterford Educational Foundation
The Waterford Educational Foundation supports the education efforts of our district and provides scholarships to graduating seniors to support their pursuit of the college or career of their choice.