Waterford USD is located in California's Central Valley, a region known for its agricultural heritage and the current world leader in almond production.
Our schools provide a safe and connected learning environment, targeted small-group instruction, and a variety of special programs such as STEAM, music, visual and performing arts, academic support, and numerous after school clubs and activities.
Waterford USD has a broad scope of educational offerings, from Preschool through Adult Education, and is the regional provider of Special Education grade 7 through adult.

Waterford USD is developing self-directed and collaborative learners who are college, career, and community ready.
We are committed to excellence, achievement, and success.
Waterford Unified School District, in partnership and collaboration with families and community, is committed to developing:
A safe, healthy and supportive environment

Academic excellence and achievement for all students

Well-rounded successful citizens with personal integrity

Diverse learning opportunities

Critical thinking and creative expression

Effective use of technology as a tool for learning
The Waterford Unified School District is a Pre-K-12 district made up of five schools with a TK-12 enrollment of around 1,765.
Special programs include: Learning Handicapped, Resource Program, Migrant Education, Title I, Title III, EIA, SIP, GATE, CORE 5 Lexia reading, Read 180, Career Technical Education (CTE), STEAM, music, visual and performing arts, and computer education.

Waterford USD provides a broad scope of special programs appropriate for each grade level. In elementary school, children receive an instructional approach to teaching, including targeted small group reading instruction. At the intermediate level, all students visit the STEAM lab, where they rotate through various projects, including robotics, programing, video production, art, and more. L.W. Intermediate students can also choose to participate in music classes, intermural or competitive sports, student leadership, and gardening. During their time at the Jr High, students have more options for sports, a deeper musical education, a variety of extracurricular clubs and activities to choose from, and mentorship and tutoring opportunities.
At all levels, students are provided a Chromebook to support student learning. Waterford USD also has several grants in place to provide free meals and all necessary school supplies. Parents who are interested can sign their children up for After School Programs.
| | |
| --- | --- |
| Superintendent | Don Davis |
| Assistant Superintendent/ Educational Services/ Director of Personnel | Jose Aldaco |
| Director Curriculum, Instruction, Assessment & Technology | Carolyn Viss |
| Business Services Manager | Sarah Yarbrough |
| Early Childhood Director | Diane Callaham |
| Director of Maintenance, Operations, Facilities & Projects | Gene Blocker |
| Director of Transportation | Suzanne Bauer |
| Director of Nutrition Services | Tiffany Gothan |
| Director of After School Program | Grover Davis |
| Network Administrator | Cruz Arce |
| Public Information Analyst | Amanda Wilson |
Preparing our students for the future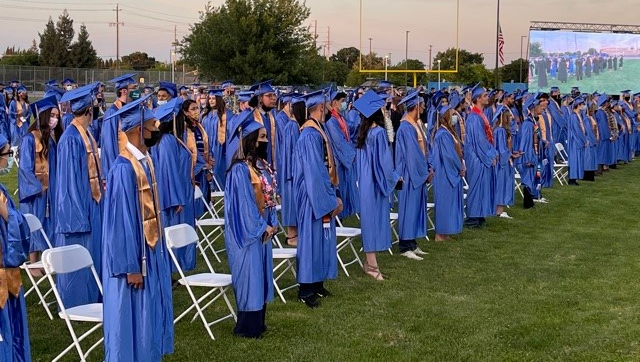 92.2% Graduation rate, 5% higher than the state average.
Waterford High School, home of the Wildcats, has a thriving athletics program, with many championship titles. Students also enjoy access to dozens of academic, extracurricular, leadership, and performing arts clubs. In addition to the Advanced Placement classes, WHS offers dual enrollment at Modesto Jr College. The adult education center, in collaboration with Modesto Jr College, also offer career and technical training classes on campus.
Waterford USD is the regional provider of special education for grades 7-adult. It is home to Sentinel High School, a continuation school that provides students the opportunity to recover credits to complete their graduation requirements. The Sentinel office also manages the Waterford Adult Education Center, where a variety of career and technical training courses are offered.
Waterford USD sponsors Connecting Water Charter School, a home school charter serving 2,100 students in a seven-county geographical region.
The Waterford Child Development Center has both a Head Start Program and a State Preschool serving 144 children ages 18 months-5 years.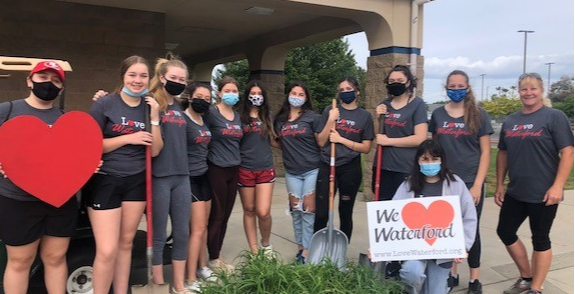 Our mission goes beyond academics; we aim to nurture youth into becoming well-rounded successful citizens with personal integrity and emotional maturity. Each month, Lucille Whitehead focuses on a Character Trait or Life Skill to develop. At our Jr High, staff and counselors lead students through "Kindness Week" and have a monthly reward system for students they see demonstrating good character. At both the Jr and Sr High, students complete required service hours and service projects. The High School has a Community Youth Club focused on serving the younger campuses and our greater community, and the FFA, other clubs, and sports team regularly volunteer for community events.
Each Spring, each campus participates in the City-Wide Volunteer Day, and students are encouraged to join with their friends or team to sign up for a project to give back to their community.