Waterford Junior High School salutes all frontline workers!

Good morning Tiger Family! We continue to make plans to reopen Waterford Junior High when our county returns to the "Red Tier" level of spread related to COVID-19. Unfortunately, we have not been given clearance to reopen on January 25, 2021 as we were hoping to. As reopening becomes closer, we will reach out to families and create ways for parents and students to ask questions and have concerns heard. Don't hesitate to our office at any time. Please stay safe, wear a mask, and stay home as much as possible! If we all do our part, will will see our kids back in school!

Good morning WJHS students and parents, please remember that distance learning classes are still in attendance. Students are to sign on the their first class no later than 8:15 a.m. Although distance learning has come with several challenges, attendance is taken seriously and can severely affect a students grades. If you have any questions please do not hesitate to contact us.

Good afternoon, Tiger Family! Waterford Junior High School would like to share the following information with our community that there are multiple local Mobile COVID Testing Sites approaching. The Curative mobile testing unit is hosting FREE, weekly, COVID testing every day of the week at different locations. The full Stanislaus testing schedule and test information is as follows: Mondays: Patterson - Hammon Senior Center Parking Lot, 1033 W Las Palmas Ave, Patterson Tuesdays: Riverbank - Riverbank Community Center Parking Lot, 3600 Santa Fe St, Riverbank Wednesdays: Manteca - City Hall Parking Lot, 1001 West Center Street, Manteca Thursdays: Oakdale - Family Resource Center Parking Lot, 631 W F St, Oakdale Fridays: Ceres - Central Valley Opportunity Center (CVOC) Ceres Parking Lot, 3860 Brickit Ct., Suite A, Ceres Saturdays: Modesto - King Kennedy Center Parking Lot, 601 Martin Luther King Dr, Modesto Sundays: Tracy - Ritter Family Ball Park, 2300 N. Tracy Blvd, Tracy Tests are saliva-based (no nasal swab required) and results are generally available within 24-48 hours. Tests are free to take, even if you do not have insurance. Also, documentation status is neither required nor reported. Appointments are made available FOUR DAYS before the testing day. Walk-ups are available but are limited. If you have insurance, please bring your information with you. Go to
www.curative.com/CA10
to make an appointment. You can visit
www.curative.com
to learn more about their self-administered oral PCR test and call 888-702-9042 with questions.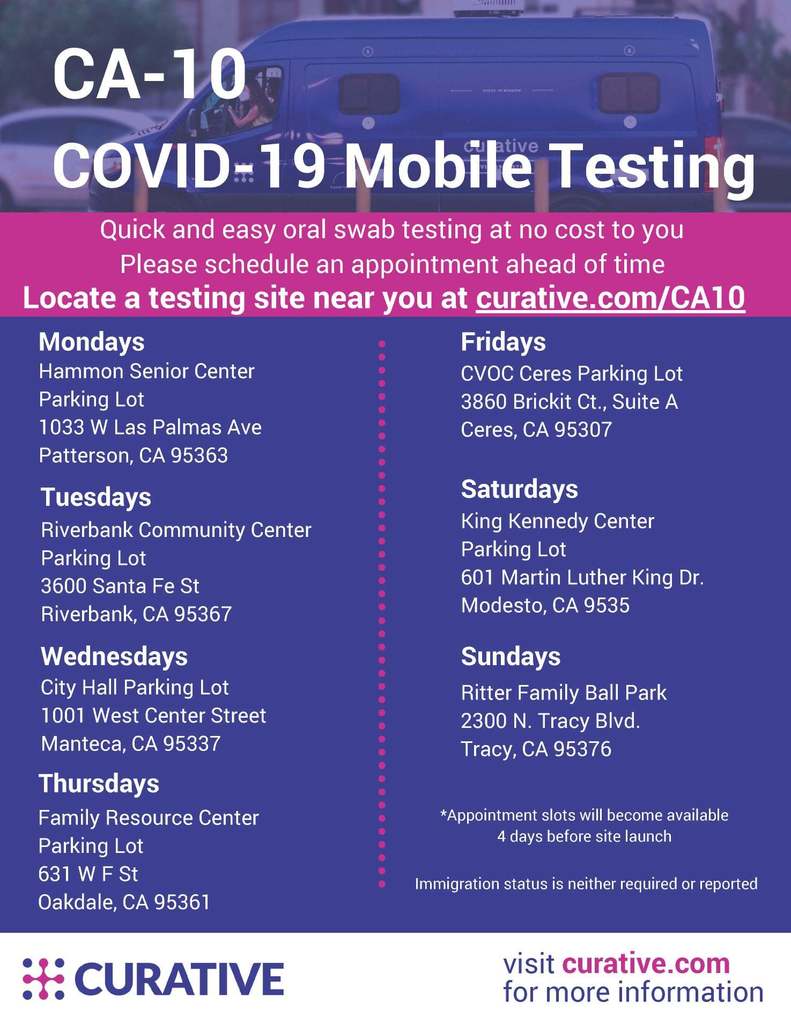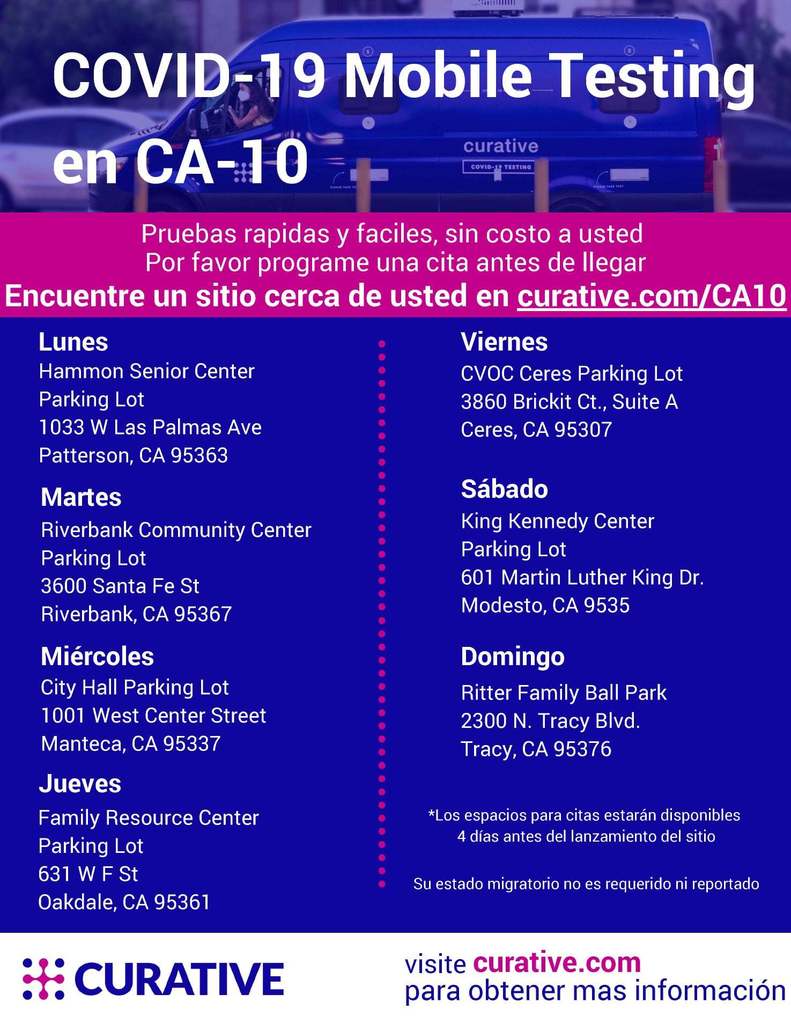 Lucille Whitehead Intermediate school opens Distance Learning for 4th, 5th and 6th grades on January 6th and with IN-PERSON COHORTS AA/BB on January 11th. Contact the school office for more information.

Lucille Whitehead Intermediate school opens Distance Learning on January 6th and with IN-PERSON COHORTS AA/BB on January 11th. Contact the school office for more information.

Waterford Junior High School Families - Stanislaus County Public Health has been asked questions about what is allowed under the Regional Stay at Home Order. Per the Stay at Home Order, "All gatherings with members of other households are prohibited in the Region except as expressly permitted." Consistent with the order, schools open for in-person instruction may remain open. Although schools are allowed to stay open any non-classroom activities, like sports conditioning or extra-curricular activities, should be curtailed until the stay at home order is lifted.

Familias de Waterford Junior High School, lo siguiente aplica si su hijo asiste a una escuela en persona, en grupo pequeño en este momento:

Waterford Junior High School Families, The following applies if your student is attending small cohort in-person school at this time.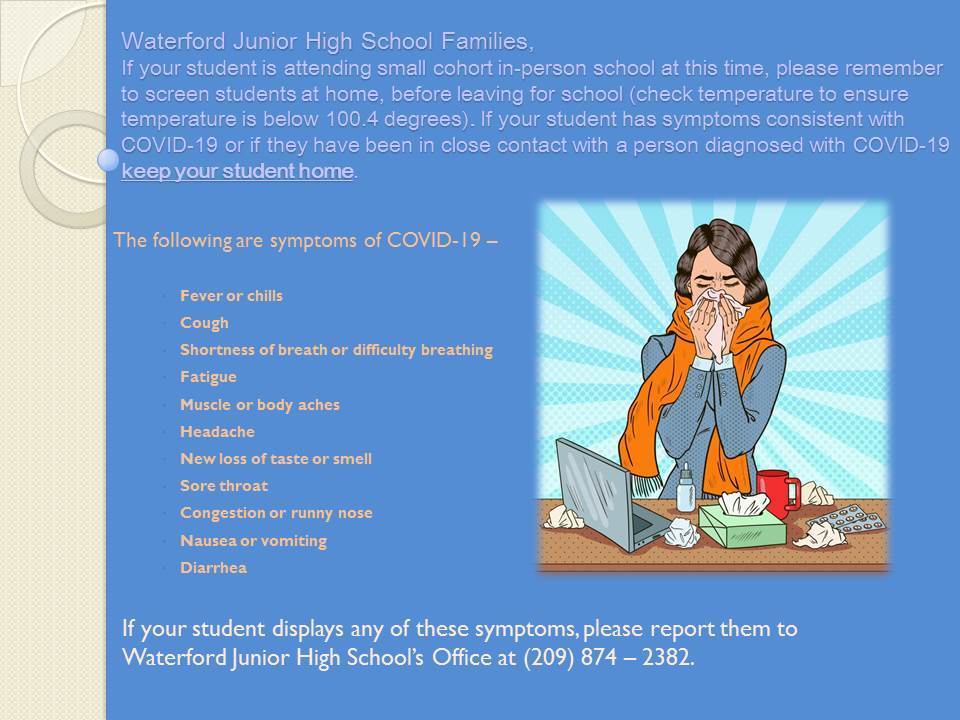 ‼️ ATTENTION WJHS Families, please note next week's schedule - Monday, 12/14: WHITE, Periods 2, 4, 6 Tuesday, 12/15: BLUE, Periods 1, 3, 5 Wednesday, 12/16: WHITE, Periods 2, 4, 6 Thursday, 12/17: BLUE, Periods 1, 3, 5 Friday, 12/18: No School (Teacher work day)

Waterford Junior High School Families, The following applies if your student is attending small cohort in-person school at this time.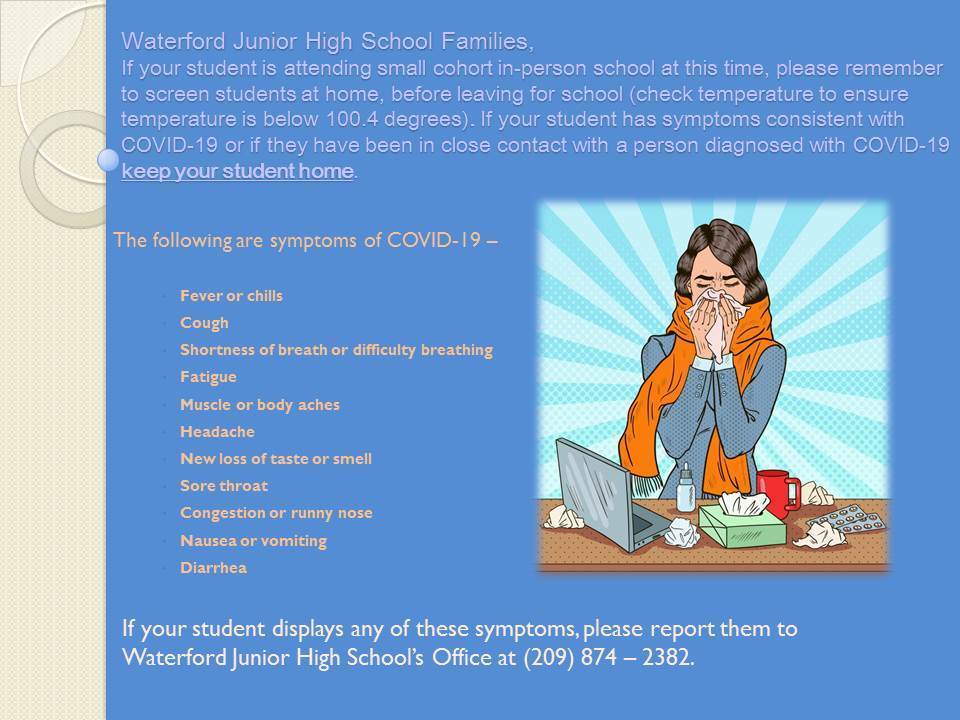 Attention Waterford Junior High Students and Families - There will be NO SCHOOL Monday, November 23 - Friday,November 27 in observance of Thanksgiving Break. School will resume on Monday, November 30. 🦃🍂🍁

Tiger Family - Friday, November 20 is Sports Jersey Day! ⚽️🏀🏈⚾️🥎🏉🏐 Wear your favorite sports jersey on camera to be entered for a chance to win a gift card!!!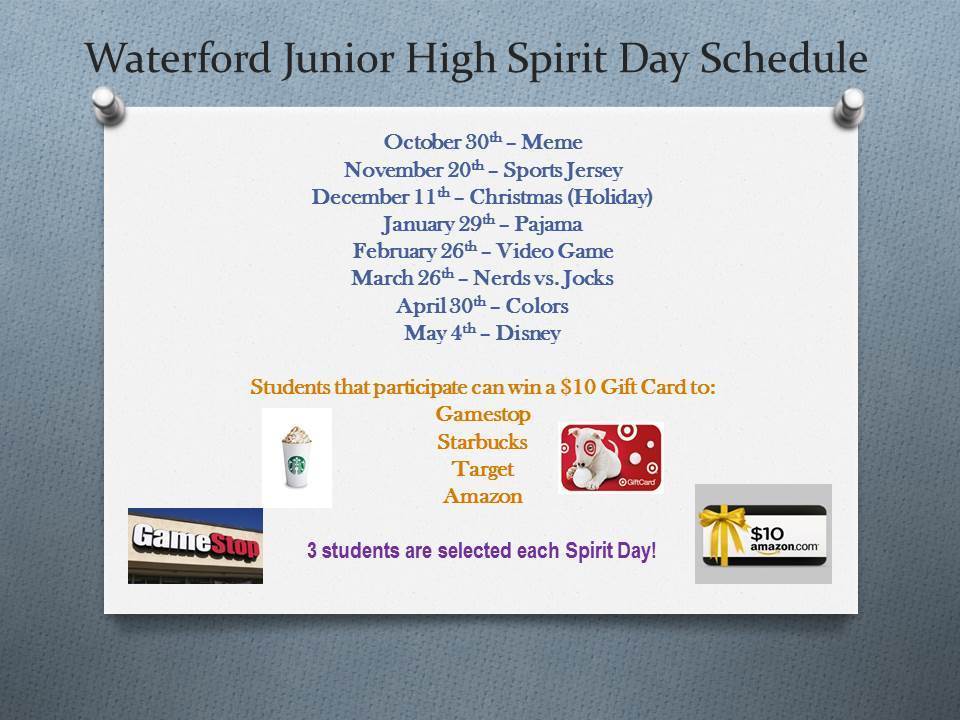 Good Morning, The Stanislaus County Office of Education's Tobacco Use Prevention Education Program is excited to offer another free virtual community presentation featuring Dr. DeNoble, an ex-scientist for Phillip Morris, who was the first whistle blower to testify in congress that nicotine is addictive. His story about how he took on the multi-billion dollar tobacco industry will captivate audience members all while they learn about the dangers of nicotine use, vape pens and addiction. We are asking for your help in sharing the information about this free community presentation with your students, parents, school staff, and the community. Attached is a flyer with more information including the live link. You can post this flyer on your school website, share it through parent square, or any other ways you may use to communicate with parents and the community. The presentation will take place on Tuesday November 19, 2020 from 6:00pm-7:30pm via zoom webinar and a link is required for the presentation. Below is the zoom link and passcode. When: Tuesday November 19, 2020 6:00-7:30pm Zoom webinar link:
https://stancoe-org.zoom.us/j/96301391565?pwd=enVWSWVXSW5DUmYxTWtrNnVnWTF1UT09
Passcode: PHAST For any questions or more information, please call (209) 238-1382 or email
eescalante@stancoe.org
. Thank you, Elizabeth Escalante TUPE Coordinator Stanislaus County Office of Education, Prevention Programs

RICHARD MOON PRIMARY OPENS 2nd & 3rd Grades. Moon school opened 2nd and 3rd grades on November 2nd with the AA/BB cohort schedule. Students in Cohort A receive in-person instruction Monday and Tuesday mornings, students in Cohort B receive in-person instruction on Thursday and Friday mornings.

No School Wednesday, November 11, 2020 in observance of Veteran's Day. School will resume on Thursday, November 12, 2020.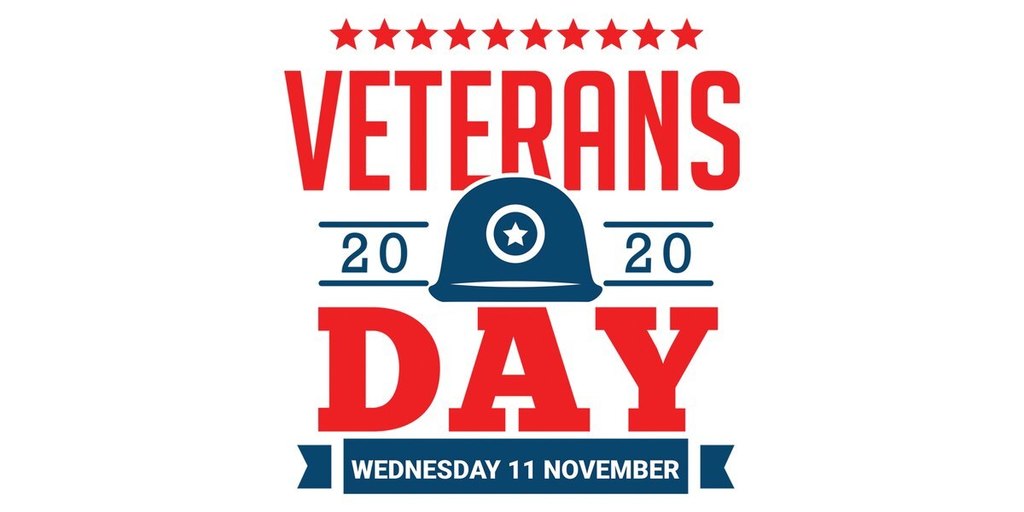 Wednesday is here once again! You know what that means Tiger Family!?! It's time to Get to Know Mrs. McGinnis!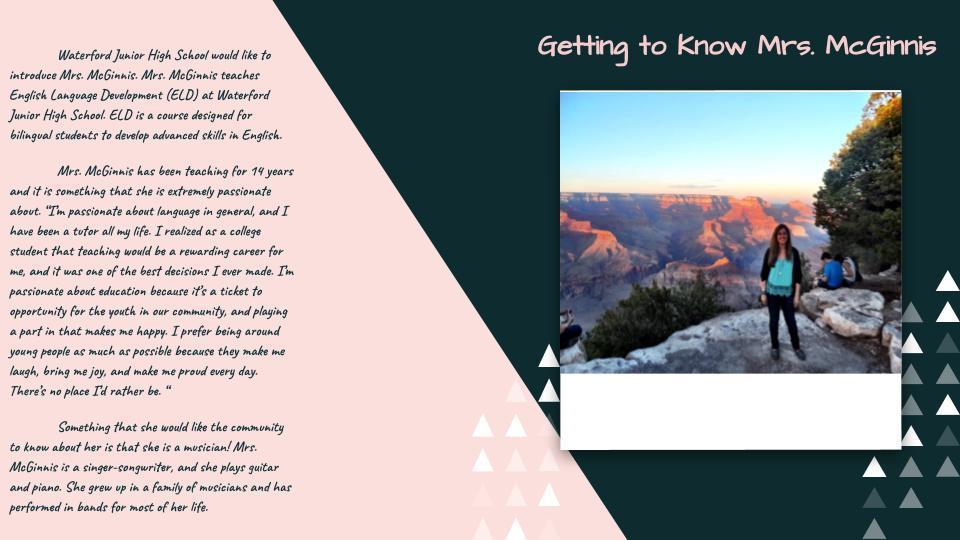 Candle Cottage Fundraiser begins TODAY, Monday, November 2!!!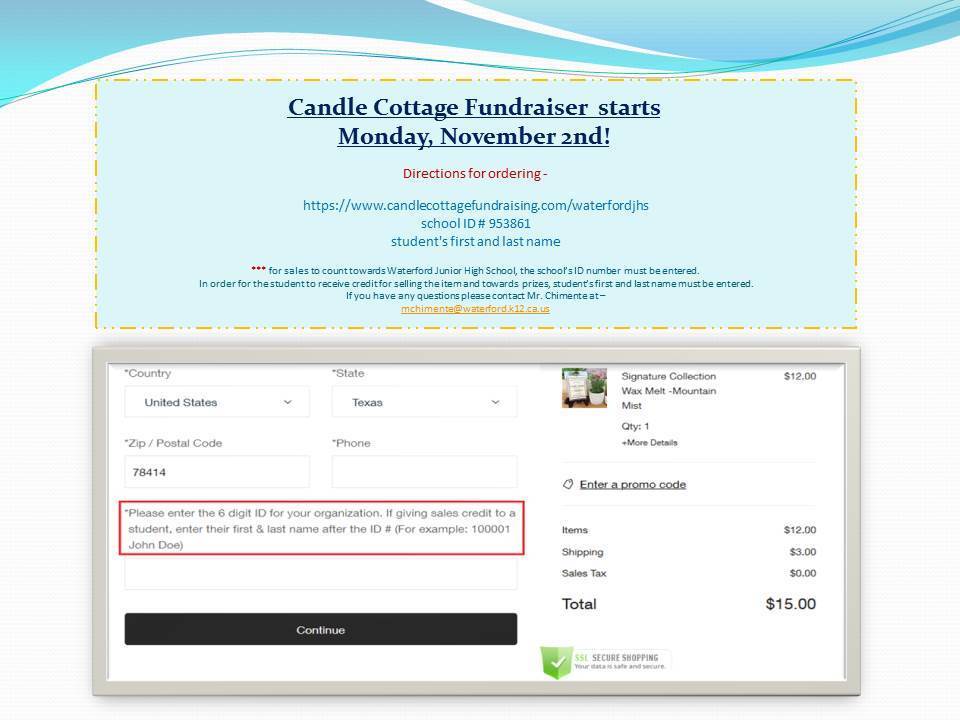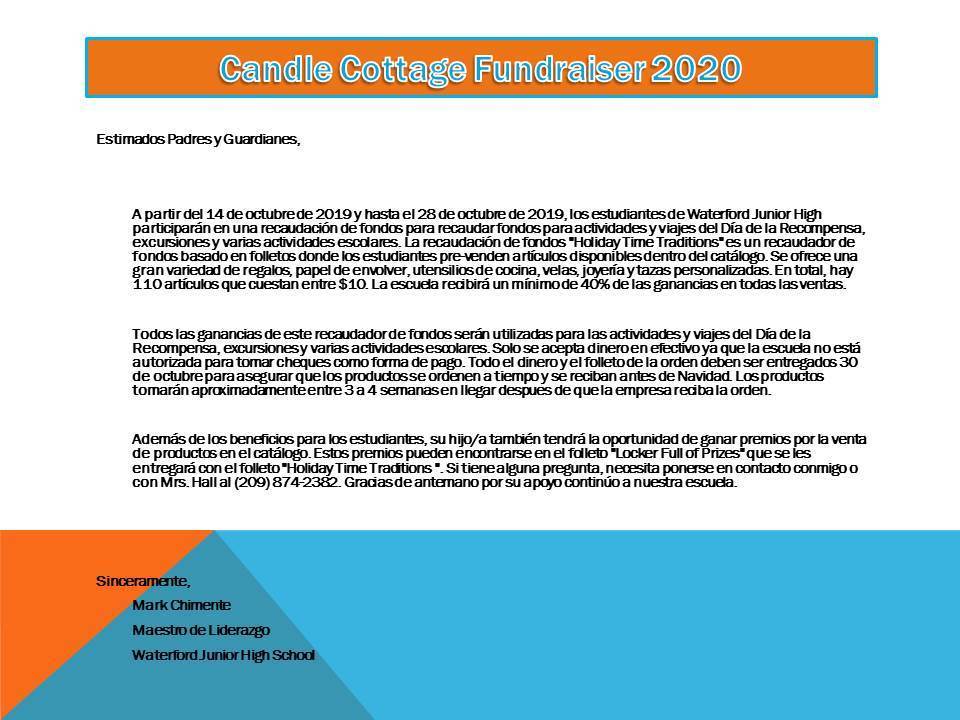 Good Afternoon, Happy Friday everyone! We have our Red Ribbon Week Photo/Poster Contest winners! Head over to the contest site
https://bit.ly/redribboncontest
to check out their winning entries. We truly appreciate your sharing the information at each phase of the contest. Your willingness to do so was the biggest determinant in the contest's success. Again, we received over 300 entries and almost 700 votes. Please share the information with your staff and students and have a great weekend! Respectfully, Ricky Bispo Tobacco Prevention Support Specialist SCOE Prevention Programs

Picture Retakes will be held on Tuesday, November 03, 2020 in the Waterford Junior High School Gym from 8:30 a.m. - 10:30 a.m.